Red Rockets
"Well these letters on the side here,
The big S-P-N-K-R.
Stand for SAYONARA,
See ya later, au revoir!

See, the Blues they've had it coming
With their fancy ghosts and tanks!
But with this gun, our battle's won
'Cause it don't just kill, it spanks!
Sarge, that name sounds really
Yeah, it's really not that great.
Aw c'mon! I kind of like that one!
This is not up for debate!
Well if we put our heads together
We can find the perfect name!
Oh can I go first?
My head's fit to burst!
Oh god this is so lame.

It's an RPG, a Master Key, a projectile wrecking ball
A big surprise, a little friend, old Betsy, and the Law!
This Lazy Boy's my favorite toy, and I'll tell you fellas why
You lock, you load, it shoots, explodes,
And you blow them Blues sky high!

Now, based on the range of impact
I'd call it Simmons' Blaster!
Why not Blue-Be-Gone? Or Air Torpedo?!
Or why not ass disaster?!

Those names are total garbage!
Oh right, as if you'd know.
How 'bout AT-4? Or Gjallarhorn?!
Te odio, pendejos.

It's a BFG, Blues' Destiny, Heat-seeking deadman's pod! Where death begins, and their life ends! It's the handheld Breath of God!
Call it what you will, we got her set to kill,
Time to paint this canyon red...

'Cause this noob tube, jackhammer, Compensator, gut slammer,
Pez Dispenser, boom stick
Chupathingy, huge prick
Iron Churro with Sambuca
Heavy metal, big bazooka.

Means them no-good Blues are DEAD!"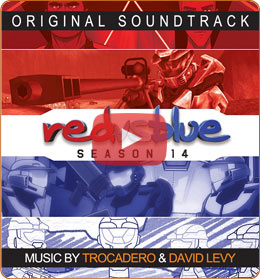 This song is from the album Red vs. Blue Season 14 Soundtrack.

From RVB14E18. This tune features much of the red team singing as their respective characters: Matt Hullum, Gus Sorola, Geoff Ramsey, Dan Godwin, and possibly Miles Luna or Burnie Burns as Lopez.

Some of the lyrics, specifically the various names for a rocket launcher, were crowdsourced by Miles on social media "what are some of your favorite names for a rocket launcher" and recorded later that day by Miles at my studio — in fact, I have a recording with Miles singing ALL of the parts which were then distributed to the voice actors as a template.