Carolina in the Morning
Nothing could be finer than to be in Carolina
In the morning,
No one could be sweeter than my sweetie
When I meet her in the morning

Where the morning glories
Twine around the door,
Whispering pretty stories
I long to hear once more.

Strolling with my girlie where the dew is pearly early
In the morning,
Butterflies all flutter up and kiss each little buttercup
at dawning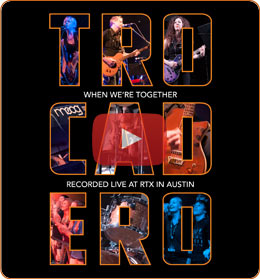 This song is from the album When We're Together.

This song originally appeared in RvB10:E11. The concept of a "low" or "melancholy" version of this 1922 Tin Pan Alley tune, now in the public domain, was Matt Hullum's. He approached us with the idea of doing a Trocadero version.

We had initial reservations after listening to the various performances, but slowing down the tempo brought out the longing quality of the lyrics. Like many first-rate melodies, this one adapted well to the slower pace, and it made sense to keep it as open as possible and not clutter it up with instruments and overdubs.